A new season calls for some new dishes, plus some trusted favorites to share with family and friends around the table.
Special occasions, holidays, long weekends or any excuse to gather this time of year to re-connect, make new memories and create new experiences.
I'm sharing a mix of plates I'm making for Passover this year. Enjoy xx
All recipes here serve 6 people. Modify as needed. I like to use all organic ingredients when possible.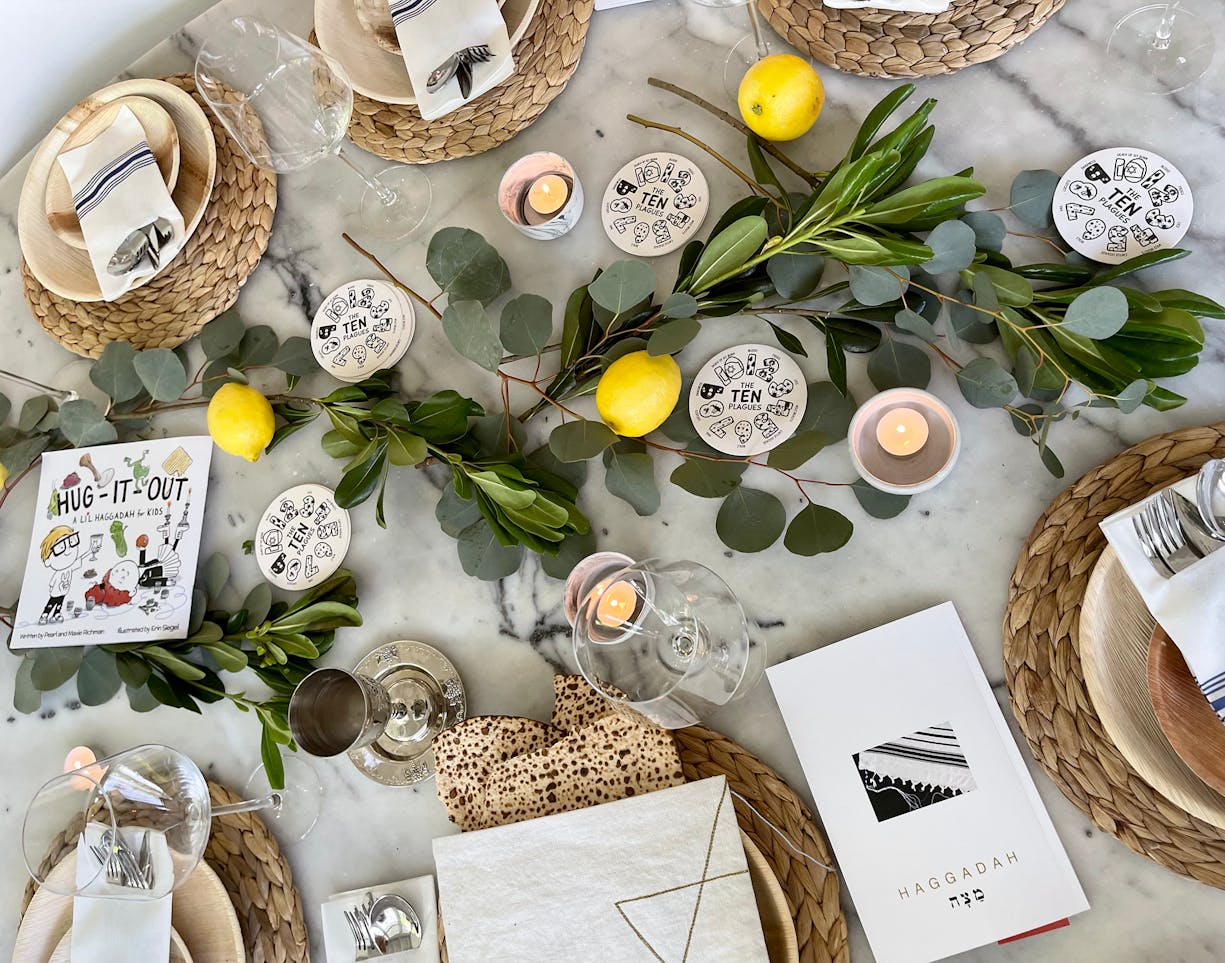 I love when the table feels intimate and personal. Music, candles, flowers, easy to eat small snacks, fresh drinks like sparkling water, wine or a cocktail of the night." - Celene Gee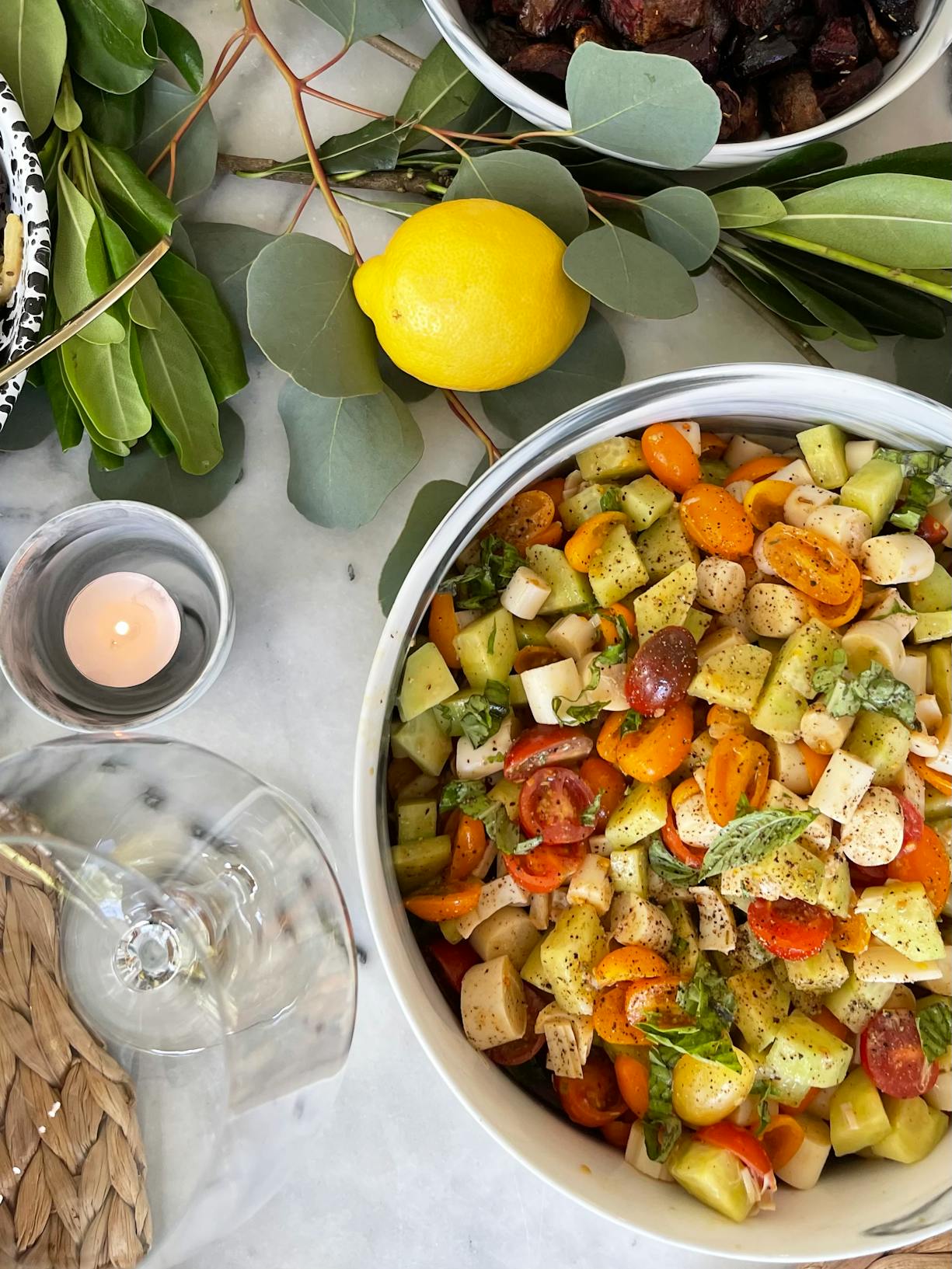 Herbed Cucumber, Heart Of Palm & Tomato Salad
I love a crunchy, super-hydrating salad this time of year. This is a chunky-style that feels heartier. Add your favorite protein for a complete meal.
What You'll Need:
1 long english cucumber or 8-10 mini cucumbers, chopped 3/4 inch thick
1 container (2 bunches) of cherry tomatoes, halved (I like a mix of red, yellow and orange to give the dish a lot of color)
2 jars of heart of palm, chopped 3/4 inch thick
a few sprigs of basil, cilantro and parsley
2 tablespoons of olive oil
freshly ground pepper, to taste
How To:
Mix all veggies in a bowl and gently add the heart of palm which can be delicate
Add olive oil + pepper to taste
Sprinkle chopped herbs on top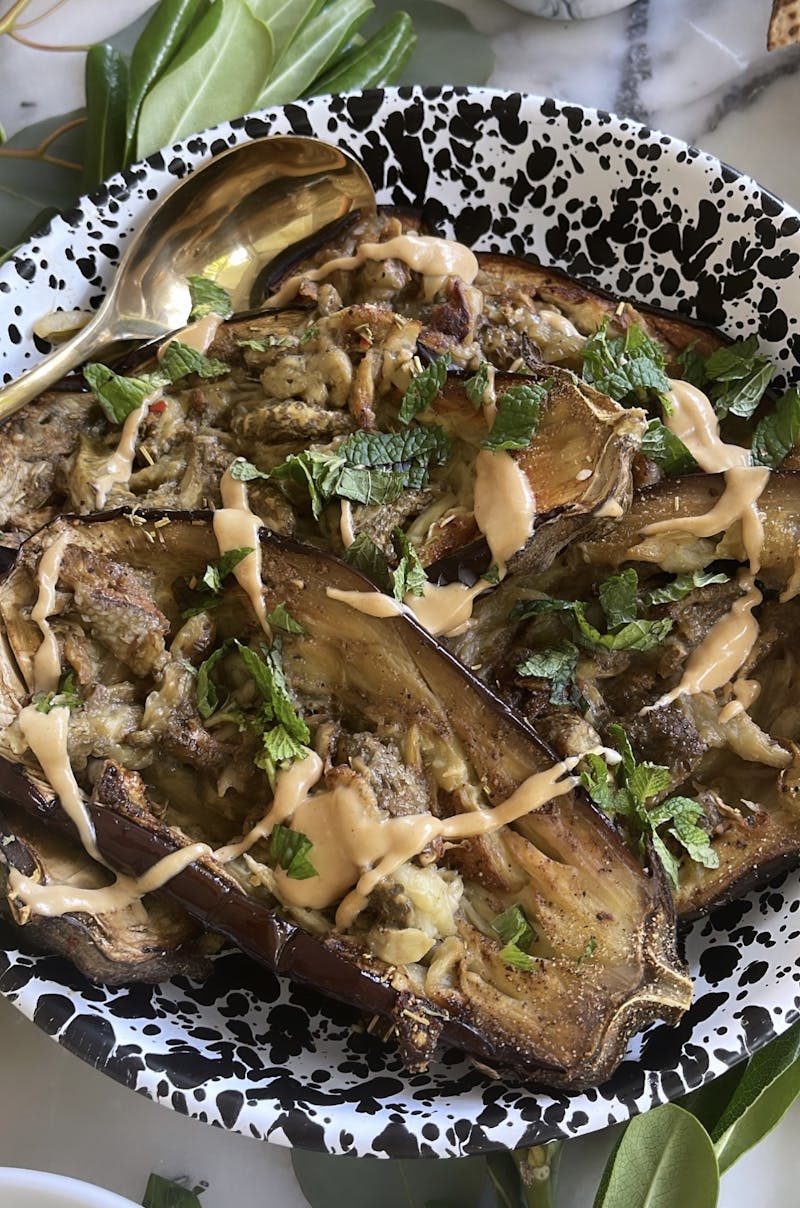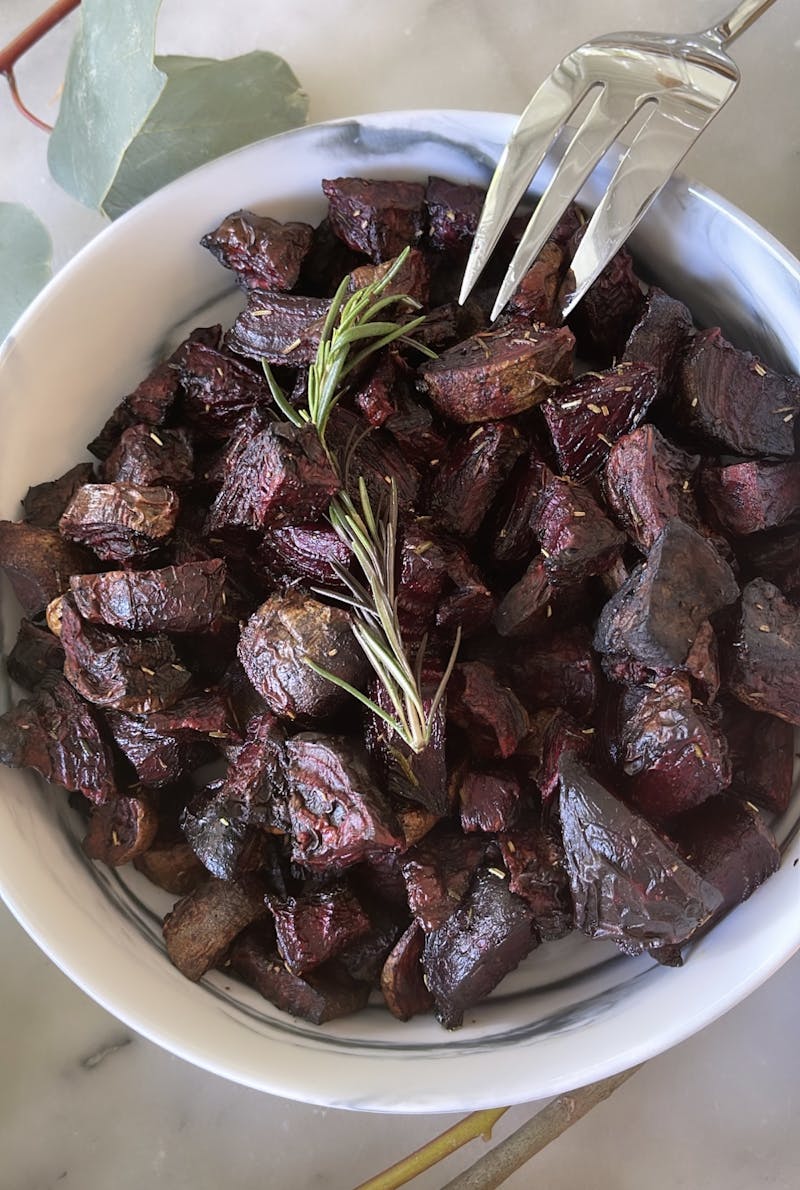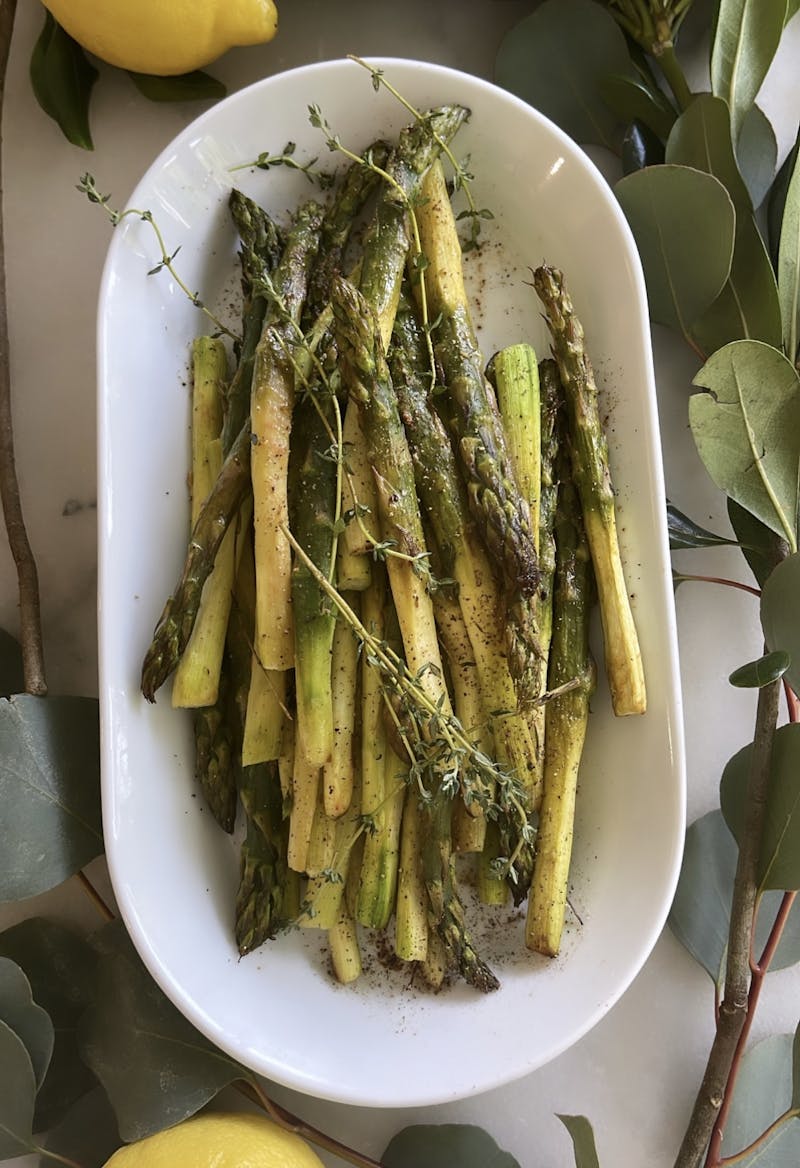 Not Your Basic Sides:
While the side dishes can often be thrown together with less thought, for me they're equally as important. Even if you're short on time, ingredients or both, you can still create beautiful sides that are delicious. I love throwing veg in the oven to roast - not only does it free up my counter, but you get the best flavor from roasting. It's a win-win!
Roasted Eggplant + Mint
Slice eggplant down the center, length-wise and score both the insides with a knife
Add a drizzle of olive oil, fresh or garlic powder and pepper
Bake in oven (for 35 min) or in air fryer for 15-20 min at 350
Once roasted, drizzle with tahini, chopped mint, pomegranate seeds and more pepper
Roasted Asparagus
Trim asparagus and in a bowl add one tablespoon of olive oil, lots of grated pepper and 3 sprigs of thyme
Roast for 20 min in oven at 350 degrees
Once done, transfer to a plate and squeeze over the juice of half a lemon on top
Roasted Beets With Rosemary
Using baby or large beets, cut into quarters and coat with 1 tablespoon of olive oil
Add garlic powder, chopped rosemary and pepper and roast for 30 min at 375 degrees
Add tahini to base of serving plate, place cooked beets on top and sprinkle with chopped basil
My Celene Cuisine Kitchen Playlist
Baked Apple Crumble
I'm making this for Passover, so it will be grain-free and vegan to accommodate our religious customs (plus this would be my take on it anyways!)
What You'll Need
- peel and slice 6-8 apples (I'm using Honey Crisp) 
- 1 lemon
- 1 cup of Almond flour
- 1/2 cup of chopped walnuts
- 1 cup of coconut sugar
- 1 package of grain-free graham crackers
- 1/2 cup of paleo granola
- 3 tablespoons of maple syrup
- 1 teaspoon of cinnamon
How-To:
- peel and thinly slice apples and add to pyrex dish
- squeeze 1/2 lemon
- add maple syrup and cinnamon and mix together
- in separate bowl, mix almond flour, chopped walnuts, coconut sugar, finely crumbled graham crackers
- add to apples and mix together
- leave sit in the fridge overnight
- bake in oven for 35-40 min on 375 degrees, stir once
- top with paleo granola
- serve with vanilla ice cream, top with extra cinnamon
Get Celene's Happy Hour Recipes
SIGN UP FOR FREE TO CONTINUE READING
Get free access to our Beauty Edit and emails with exclusive content